Glen Echo
The Town
Chautauqua
Amusement Park
• Post Cards
• Souvenirs
• Tickets
• Early Programs
Modern Times
History Book
Cabin John
The Town
The Hotel
Amusement Park
The Bridge
Legends
History Book

Great Falls
Post Cards
Other Stuff
Conduit Road
The Trolleys
Buildings
The Aqueduct
The Road
General
Capital Transit Passes
Historic item Trader
Minnie Brooke Postcards
Welcome !


This website has been created to share information about the history of the Potomac River Valley on the Maryland side of the river between the DC/Maryland line and Great Falls on the Potomac.

The largest populated areas along this stretch are Glen Echo and Cabin John; there are several smaller communities including Brookemont, the Anglers Inn area and Great Falls. The ancient history of the area is adequately covered in many scholarly sources and will only be mentioned in passing here. Thus the bulk of material presented will be from around the beginning of the 19th century to the present.

---
The Frank D. Pryor Collection of Capital Transit Passes

Donated by his grand daughter Ann Pryor
20-November, 2017

Frank Pryor was a Commander in the United States Navy and was stationed in the Washington, DC area for at least part of the years from 1935 to 1940. For the majority of 1936 Frank lived outside of the central part of the city as evidenced by his transit passes having the "add-on" extended range of service tab. This tab covered areas outside of the city center including parts of the suburbs covering parts of northern Virginia, Montgomery County and Prince Geroges County, Maryland and the further reaches of the District of Columbia. It is known that Frank lived in Alexandria, Virginia for a while.




Frank was apparently fond of ephemera, besides keeping his old transit passes, he also collected match books, postcards, & stamps.

Frank's selection of passes includes voids, sometimes a single week and several times gaps of up to a month. These may have been vacations, duty assignments, or simply a pass that was too worn to merit keeping; we will probably never know.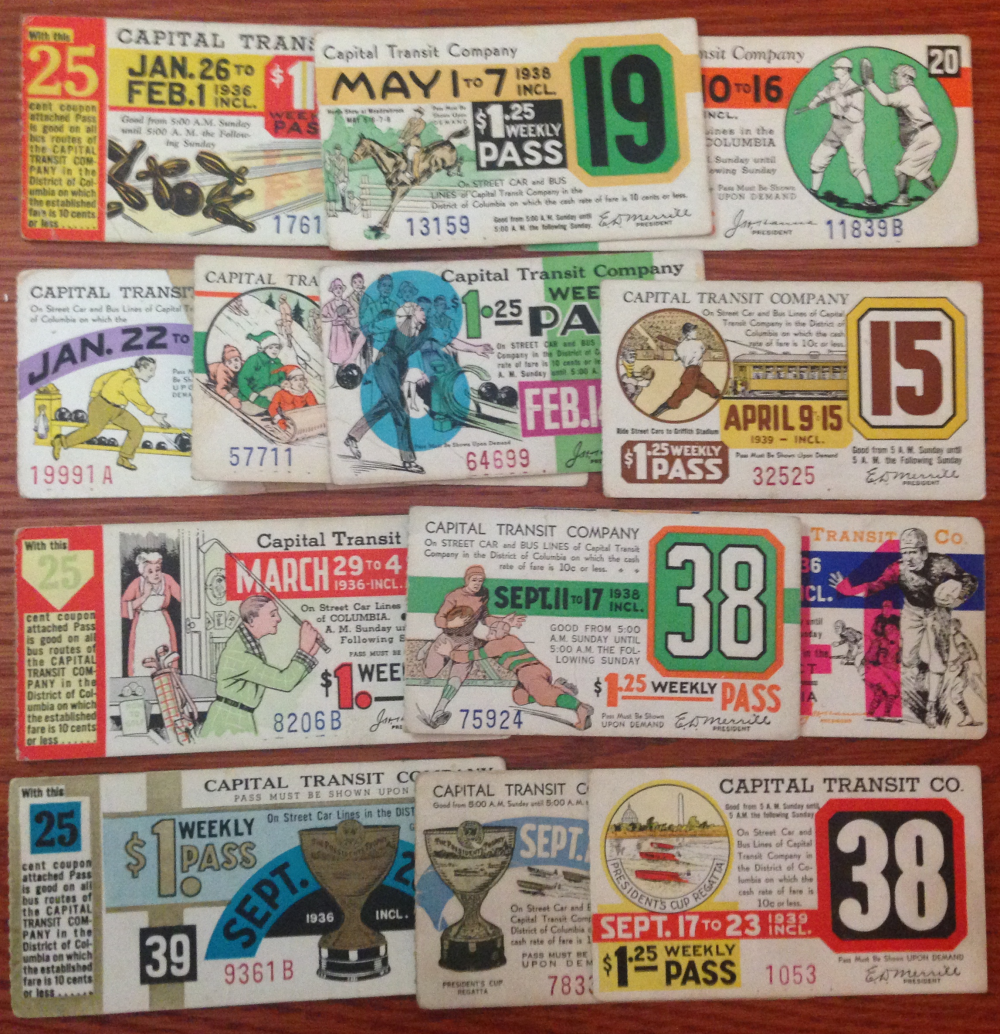 Capital Transit passes featured many subjects over the years, public buildings, statues, political functions, natural beauty, holidays, and two of my favorites, sports events and Glen Echo Amusement park. Glen Echo Park was owned by the transit company, so what better thing to do than advertise your own company on the passes. Some of the Glen Echo passes show generic amusement scenes, but some are actual representations of rides and features at the park.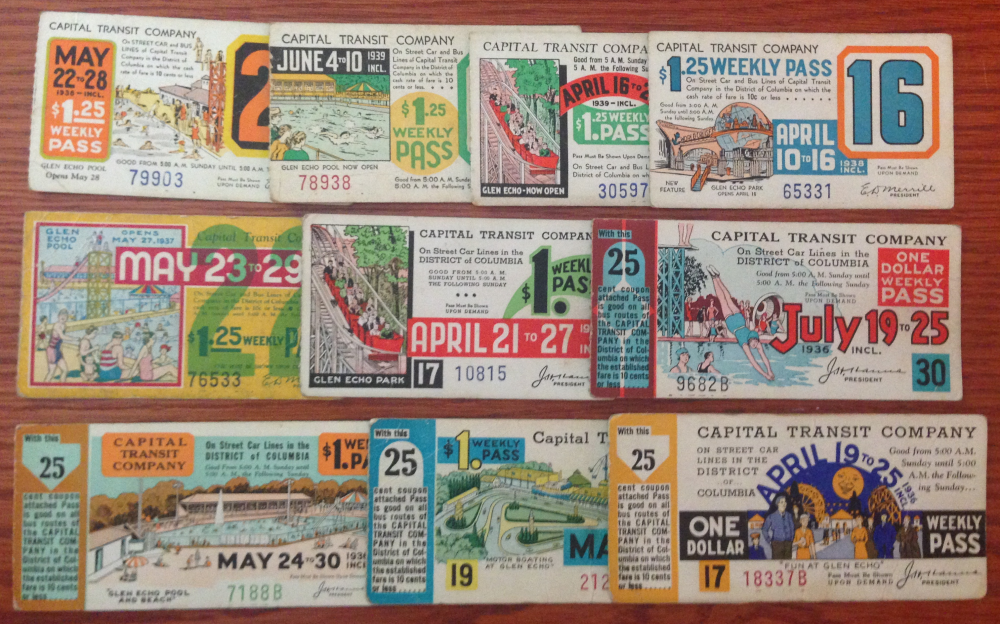 Frank's grand daughter Ann Pryor generously donated her grandfather's collection of passes which made this page possible. Her generosity has also helped me nearly complete the collection of passes that I have been putting together for almost 30 years.
---